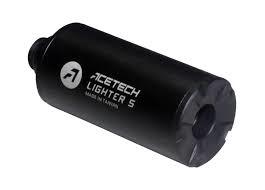 Acetech
ACETECH Lighter S tracer The ACETECH Lighter S pistol tracer suppressor unit is a small and probably the most compact tracer unit available. Its easy to use and ensures it does not become cumbersome with its compact form factor. 
Supports green luminous bbs.
Supports up to 35 RPS.
Accessories: MicroUSB Cable x1 / Adapter x1 11mm cw-14mm ccw
Fully charged battery would last over 22,000 rounds.
LED power indicator.
Battery charging indicator.
Availability:
Out Of Stock