Airsoft Systems ASCU Pro for V2 Gearbox
Airsoft Systems ASCU Pro for V2 Gearbox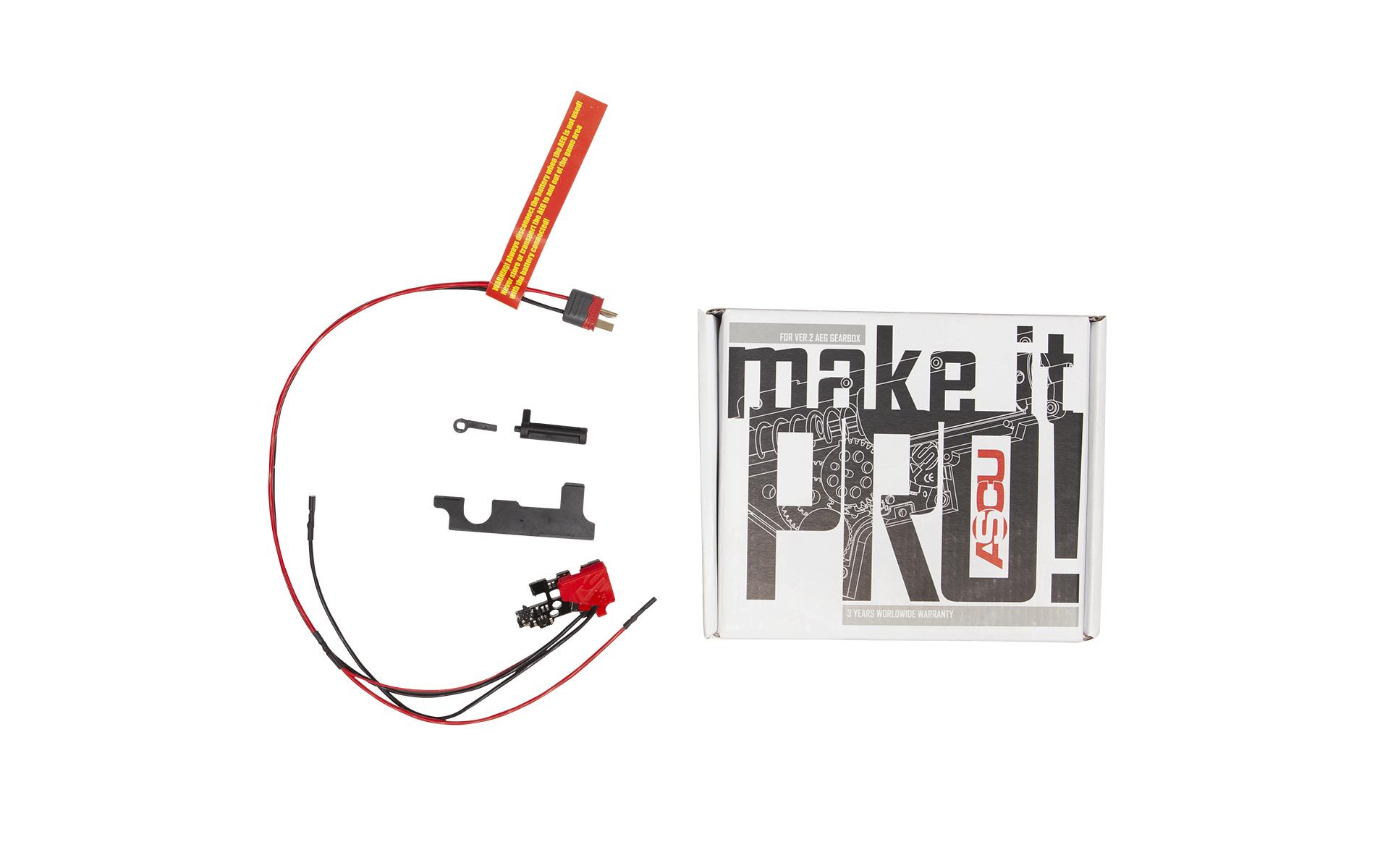 prove your trigger response and gearbox efficiency with the Airsoft Smart Control Unit (ASCU), an easy to fit upgrade for almost all common 'Version 2' type gearboxes.
The ASCU PRO delivers a mechanical electronic fire control system along with a pre cocking mode and an active breaking unit. The pre-cocking unit (which can be deactivated) allows the piston to be preloaded in a 'ready to fire' position after the initial firing cycle, which allows for a quicker release on following shots; this feature is coupled with the ASCU PRO's active break which will only halt the motor when absolutely necessary to give you the ultimate in fire control. In addition, a Total Short Circuit Protection system safeguards your electronics and battery from damage caused by accidental shorting.
Most importantly the ASCU PRO allows you to tailor the trigger response to your gaming needs with four easily programmed fire modes.   
You can choose from these four modes:
1.
Semi/combined burst/ full auto
To change the setting simply connect a battery to the ASCU PRO wait for the vibrating signal to reach the fire mode you want and then simply hold down the trigger to set and save the mode for immediate and future use. The ASCU PRO can be set up and configured using just the fire selector and trigger and does not require connecting to a PC or mobile phone app.
Built to take whatever the player can throw at it the ASCU PRO is able to take huge power loads of up to 240A meaning that the latest generation of high power LiPo batteries present no problems for it.
Features:
- Single board design
- Mosfet
- Mechanical microswitches
- cycle monitoring
- Automatic active brake
- Automatic Pre-Cocking (can be deactivated)
- Adjustable fire modes 
- Fast shot sequences
- Mechanical security
- Battery monitoring and battery shutdown
- Compatible with LiPo, LiFe, LiIon and NiMH batteries
- up to 15V possible (11.1V is recommended)
- Can be loaded up to 240A for a short time
- 16 AWG cable with T-Plug connector
- Short circuit protection
- Compatible with almost all V2 gearboxes
- Made in EU