AirsoftPro Lightweight hybrid piston for sniper rifles L96, MB01,05,06, SW m24, M99
AirsoftPro Lightweight hybrid piston for sniper rifles L96, MB01,05,06, SW m24, M99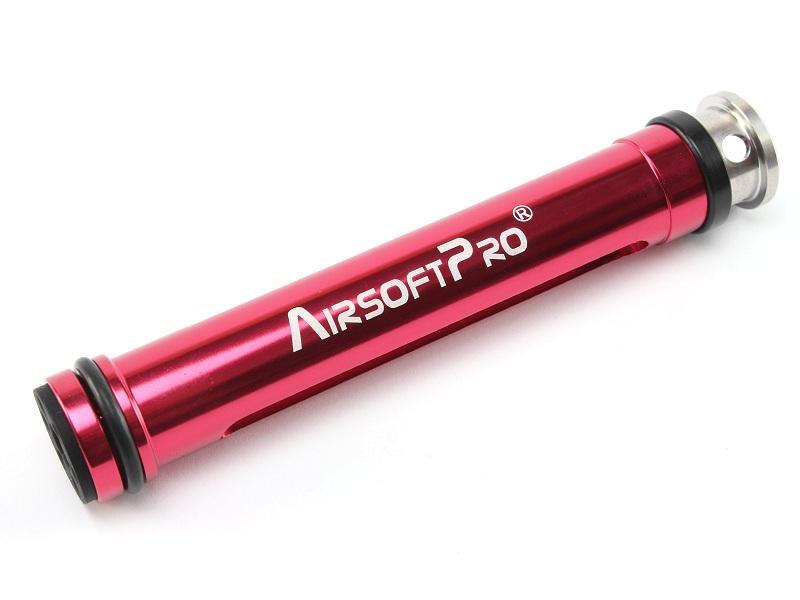 AirsoftPro
Reinforced piston for your airsoft sniper rifle. For maximum performance and durability. The hybrid piston is made of three different materials:
Light aluminum body

POM ring for better sliding in the cylinder

Catch back end part made of stainless steel.
Compared to the previous version, the piston was completely redesigned. Rubber pad now exceeds larger area with the back-pressure holes, stainless steel part is shorter, piston is more lightweight. This reduce the weight by a quarter over the previous generation. And lower weight means higher performance. The groove below the sealing ring is shallower with a modified shape, reducing the risk of head deformation due to impact. Improvements have also been made to the sliding POM piston rings for longer life of the front of the piston. They were slightly enlarged so that the metal parts did not touch cylinder and had a smoother surface.
SPECIFICATIONS:
The piston is made by CNC machining from light, but durable aluminum alloy 6061-T6 (Dural) with a high-quality anodized finish.
The piston catch is made of stainless steel.
The piston has one sliding polyacetal (POM) ring.
The piston head has an back-pressure system with O-ring (O-ring expands and seals better when shotting).
The enlarged inner piston diameter allows you (and we recommend) to insert a stronger 9mm spring upgrade.
Dimensions: lenght - 117mm, outer diameter - 19,8mm, inner diameter - 13,5mm
Weight: 30g
APPLICATION:
Maruzen APS 2, EX , Type96
Well MB01, MB04, MB05, MB06, MB08, MB13, MB14
Snow Wolf (SW) M24 SW-04 , M99
SAG E&C L96 Specna Arms L96
Availability:
Out Of Stock