ASG STI DVC 3 TTI GBB Pistol ( threaded barrel) by EMG
ASG STI DVC 3 TTI GBB Pistol ( threaded barrel) by EMG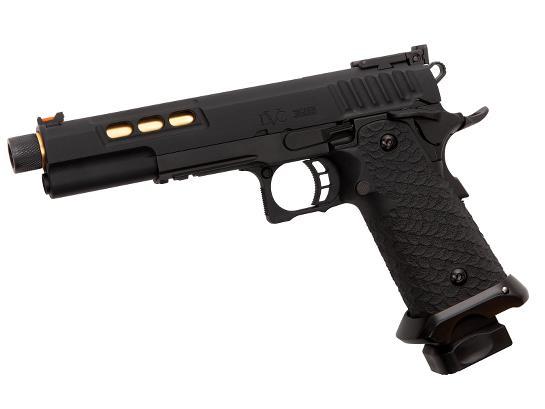 ASG
ASG STI DVC 3 Pistol with threaded barrel
Designed by Texas based firearms manufacturers STI, the DVC3 is a precision pistol designed specifically for enthusiasts of the '3 Gun' shooting discipline.
Borrowing heavily from the classic design concepts of the venerable 1911 STI created the up to date 2011 model.  Using the 2011 as the base the DVC 3 takes the platform to a new level.  The advanced custom frame, flared magwell, competition style sights and stippled grips enable faster shooting, fluid reloads and faster target acquisition.  Precision lightening cuts in the slide aid recoil while custom serrations allow a firm and rapid grasp when charging the pistol.
Tailored to the target shooters needs the DVC 3 also features an enhanced mag release and ambidextrous safety catches making this fully licenced replica look and feel just like the real thing.
The STI DVC 3 is available in both standard and threaded barrel versions.
Features
• Highly detailed CNC machined aluminium long slide with officially licensed STI rollmarks.
• CNC machined aluminium frame with moulded reinforced polymer grips
• Moulded DVC Stippling pattern provide a comfortable, slip-resistant grip
• Extended length barrel with gold effect coating
• Slide lightening cuts help the slide cycle faster with less felt muzzle flip
• Flared mag well aids in quick reloads; extended magazine included
• Ambidextrous safety
• Target style sights with fibre optic front
Availability:
Out Of Stock