Gate Titan V2 Rear wired advanced set
Gate Titan V2 Rear wired advanced set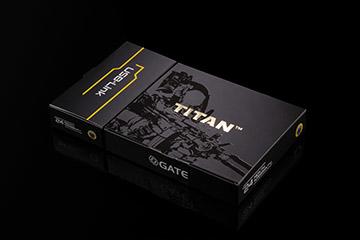 Gate
Gate TITAN V2 Advanced Set

The ADVANCED firmware edition offers wide variety of functions and is dedicated for those who like complex solutions.
It enables access to the Statistics and TITAN World Rankings. To learn all the differences between firmware editions, please check the comparison table.

Kit contents:

TITAN V2 with ADVANCED firmware edition (rear or front wired)
USB-Link for GATE Control Station™ App
USB-A Cable for USB-Link [1.5m / 4ft 11in]
USB-C Cable for USB-Link [0.6m / 1ft 11in]
Micro-USB Cable for USB-Link [0.6m / 1ft 11in]
Installation Kit
Quickstart Guides
TITAN V2™ is an AEG Control System for V2 gearboxes which will transform your AEG into an advanced training weapon. Adjust your AEG and check the Statistics using USB-Link and GATE Control Station app for PC and Android devices. Gain a tactical advantage thanks to the extremely fast trigger response, option of adjusting trigger sensitivity to your preferences and many other useful functions. Give your AEG a new lease of life!

It has a user-friendly configuration via the GATE Control Station app for Android, Windows and macOS
It is the first and only mosfet allowing for making firmware updates via the internet, what enables improvements
It has innovative optical sensors instead of mechanical switches that can be prone to faults
It gives you an access to the Statistics and Rankings (in case of Advanced firmware)
It replicates a trigger response like in a real gun
It is compatible with DSG, SSG and 19-tooth gears
It is compatible with most V2 gearboxes (including cnc) on the market without any modification

TITAN and GATE Control Station give you total control of your AEG. The GCS offers you the option to:
control your airsoft gun from smartphone with Android and PC with Windows or macOS
simply adjust the TITAN's settings
update and upgrade firmware
see the Statistics and participate in Rankings*
perform diagnostics and send reports

*only in case of Advanced firmware

TITAN gives you the option to adjust:
Fire selector mode
Pre-cocking mode
Pre-cocking boost
Burst mode
Burst
ROF Stabilization
ROF Control
Sniper Delay
Battery protection
Battery cell
Low battery warning
30-rounds limit
Cycle detection
Equalizer (dynamic trigger point)
Active Brake
Gear ratio

Sensors

With the GCS you can easly calibrate and adjust sensors.
The trigger sensor offers you even 250 possible sensitivity settings. You can choose one of two trigger modes:
1-stage: standard
2-stage (previously 'AUG mode'): first stage is SEMI or BURST, second stage is BURST or AUTO
The selector sensor gives you an option for fine calibration of selector switching point. You can also choose between:
AUG TYPE: selector disabled

Includes USB-Link

The USB-Link allows for connecting GATE devices with PC, smartphones and tablets.

Configure your TITAN in the field using the outstanding Tactical Programming Card which provides you with very easy access to main TITAN functions.
Availability:
Out Of Stock