KJW KP-05 Hi-Capa GBB Pistol
KJW KP-05 Hi-Capa GBB Pistol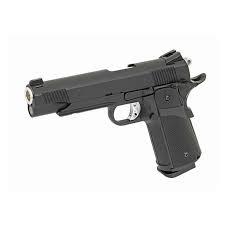 KJW
KJW Full Metal Custom 1911 Tactical HI-CAPA 
KP-05
Its has the power, light trigger pull, accuracy, reliability (full metal and CO2 ready), hi-capa , railed frame, upgraded grip and fully reinforced internals and external parts. Besides performance, the look and feel is rated top notch making this pistol one of the best gas pistol you can buy for Airsoft training and simulation.
This model can use both Green Gas and Co2. 
Features:
Full metal slide and lower rail
Hard polymer genuine Tanio Koba grip / trigger frame
Accessory ready railed frame for lights and lasers
Ergonomic rubberized grip
Reinforced internals (suitable for use with green gas, Winter gas, co2)
Light 3-hole trigger with on frame and grip safety
Reinforcement parts: Full metal outer barrel, chamber, reinforced recoil spring, spring guide, slide stop, safety hammer, hammer spring, trigger, slide, firing pin, valve assembly and lower frame
Front and rear slide serrations
Ambidextrous safety
Weight: 1040g
Dimension: 228mm x 150mm
Magazine: 28+1 green gas magazine included.
Muzzle Velocity: 300-350 fps gas and weather dependent.
Availability:
Out Of Stock