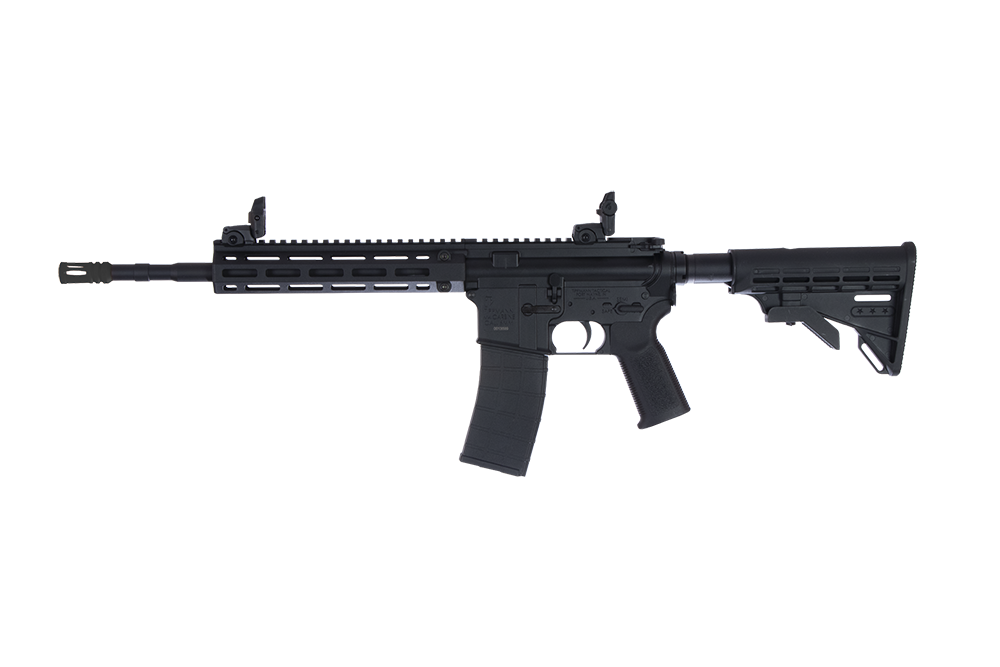 Tippmann
TIPPMANN M4 V2 AIRSOFT RIFLE
Full auto without the need for batteries. This Airsoft M4 runs on either 12g co2 capsules compressed air from a high pressure bottle. The choice is yours. All this from the awesome inline bolt system, adjustable rate of fire and velocity without the need to touch a spring all in an authentic M4/AR style rifle.
The Tippmann M4 features a realistic flip top break down, just like the real thing. This flip top break down gives access to the hex key adjustment for the rate of fire and velocity. In essence you can tweak the velocity to the maximum allowed without the need to take apart a gearbox.
If you want to run on 12g Co2 capsule, they are placed into the 80 round magazine which is included in the box. Want to shoot with a high cap mag, then run the Tippmann M4 on a remote line attached to a bottle and fill your boots.
The full metal receiver is compatible with most real M4/AR accessories including the rear stock, front shroud and picatinny rail system.
Features 
Multiple Gas Input – CO2 Cartridges or Remote Line Adapter
Gas Blow Back – Realistic Recoil/Kick
Full Metal (Aluminum) Receiver, Barrel Assembly and Stock Tube – Breaks Down Like Real M4
Adjustable rate of fire – 8-15- RPS
Adjustable velocity – 300-400 fps (0.20 g BB)
Adjustable Hop-up Bucking
No Batteries
Firing Modes: Safe/Semi/Full-Auto
Adjustable Front and Rear Flip Up Sights
Front and Rear Sling Mounts
Anti-Jam Technology
Low Maintenance – No Gear Box
Easy Disassembly
Tool Less Mag Disassembly
Full Length Top Pic Rail
Modular Foregrip – 8 sided picatinny capable With Additional Rails included
Glass Filled Nylon grip
Optics Ready with Flip Up Sights
Adjustable 5 Position Stock
Accepts many real AR stocks and hand guards and works with many AEG mags when remote line system is used
Remote line adapter included
Accepts industry standard AEG inner barrel
Threaded Flash Suppressor (M14x1.0 CCW)  

Main Materials 
Polymer 
Compatible Batteries 
N/A
Package Includes 
Tippmann M4 V2 Airsoft Rifle 
Manual 
Magazine 
Availability:
Out Of Stock