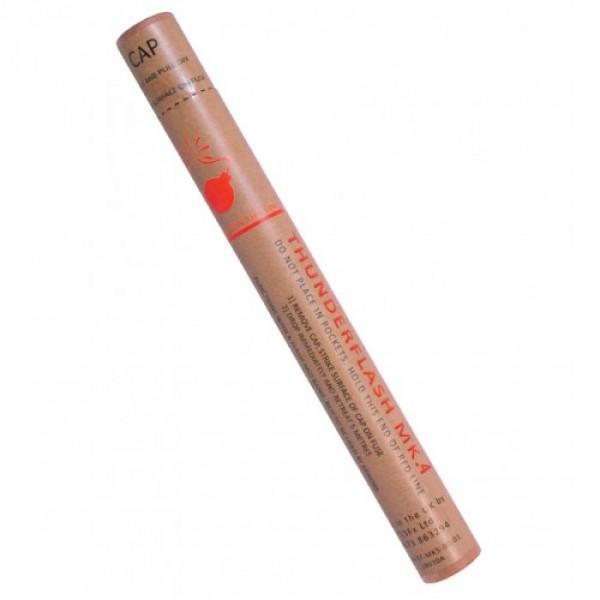 Bulk Buy Discounts
| Quantity Purchased | Price |
| --- | --- |
| 10 - 19 | £2.75 |
| 20 - 39 | £2.45 |
| 40 + | £2.35 |
TLSFX
The little Sister to the Mk5, where noise is a concern, this is slightly quieter and much better for CQB arenas.
The staple of any airsofter, paintballer and MilSim player's pyrotechnic arsenal. The TLSFx Thunderflashes, or flash bangs, do exactly what you expect, delivering a loud report and distracting flash of light, reliably and consistently. The simple and effective "twist and strike cap" friction ignition system activated the consistent 7 second fuse. When the 7 seconds is up, the Mk4Thunderflash detonates with a loud bang and a bright flash. The twist and strike cap also protects the tip from damage and accidental ignition. 
SAVE MONEY WHEN YOU BUY IN BULK. SEE DISCOUNT TABLE BELOW IMAGE
THIS PRODUCT CAN ONLY BE SHIPPED TO UK MAINLAND
YOU MUST BE OVER 18 TO PURCHASE AND USE THIS ITEM
Please note, the following restrictions apply to all sales of Pyrotechnics sold by Ammo Drop


By purchasing smoke or pyrotechnics from Ammo Drop I understand the conditions of sale & use. We reserve the right to share information if contacted by the police should misuse of these products take place. 
It is illegal to use smoke grenades or any form of pyrotechnics in sports stadiums in the UK. Over 18 use and supply only. Do not use products indoors or in confined areas. Smoke can cause breathing difficulties. Do not use pyrotechnics in public places unless permission is sought. Do not use pyrotechnics in locations which could create panic or concern.  
I have read and understand that pyrotechnics can only be used in controlled areas or on private land and can confirm that I understand these conditions.
Availability:
Out Of Stock