TLSFx Multibang Thermobaric Grenade
TLSFx Multibang Thermobaric Grenade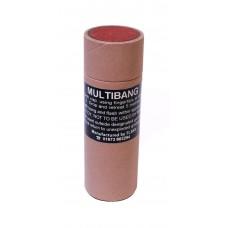 Bulk Buy Discounts
| Quantity Purchased | Price |
| --- | --- |
| 10 - 19 | £5.50 |
| 20 - 29 | £5.25 |
| 30 + | £5.00 |
Flash Bang Smoke
TLSFX Multibang Thermobaric grenade.
This is the multi shot variant of our popular Thermobaric grenade. The same dazzling and distracting bright flash, but with a three shots in quick succession. The low report (little noise), this can distract other players to enable you to change positions or just get the drop on you opponents.
To use it is easy as can be. A quick shake, twist off the cap and use the end to strike the exposed fuse, like a safety match. 7 seconds later the grenade will burst with a stunning bright light. The low volume of the report makes this a great choice for game areas where noise pollution is a concern.
THIS PRODUCT CAN ONLY BE COLLECTED
SAVE MONEY WHEN YOU BUY IN BULK. SEE DISCOUNT TABLE BELOW IMAGE
YOU MUST BE OVER 18 TO PURCHASE AND USE THIS ITEM
Please note, the following restrictions apply to all sales of Pyrotechnics sold by Ammo Drop


By purchasing smoke or pyrotechnics from Ammo Drop I understand the conditions of sale & use. We reserve the right to share information if contacted by the police should misuse of these products take place. 
It is illegal to use smoke grenades or any form of pyrotechnics in sports stadiums in the UK. Over 18 use and supply only. Do not use products indoors or in confined areas. Smoke can cause breathing difficulties. Do not use pyrotechnics in public places unless permission is sought. Do not use pyrotechnics in locations which could create panic or concern.  
I have read and understand that pyrotechnics can only be used in controlled areas or on private land and can confirm that I understand these conditions.
Availability:
Out Of Stock