Tokyo Marui 416 Delta Custom NGRS rifle
Tokyo Marui 416 Delta Custom NGRS rifle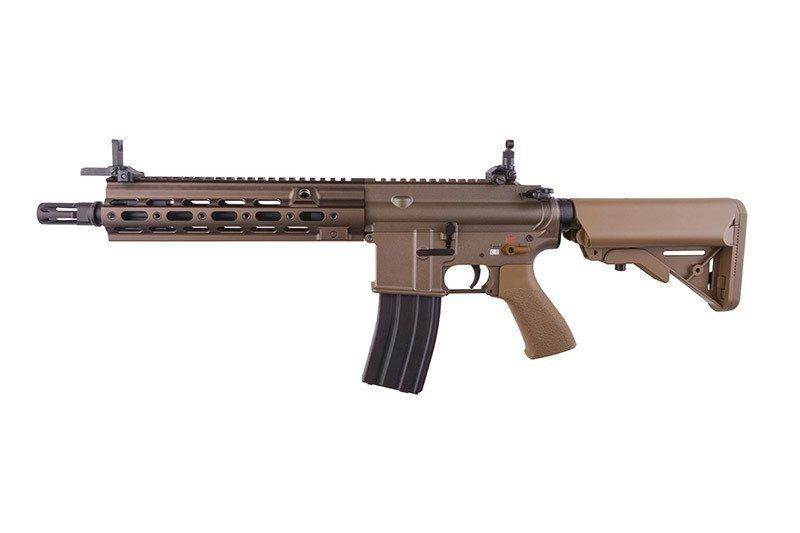 Tokyo Marui
TM416 Delta Carbine Replica
A highest-quality 416 rifle replica made by iconic, Japanese Tokyo Marui. It is characteristic for the excellent quality of materials used, the way parts are aligned together and its reliability of operation - this is, however, expected of such a manufacturer, who is already a legend in the airsoft environment.
The replica was made of metal (aluminum, ZnAl) and high-class polymer. Metal parts include: the receiver, handguard, external barrel and the stock slide. Parts made from polymer include the pistol grip and the adjustable stock with ergonomic stock pad - just like in the live firearm original.
Tokyo Marui 416 replica features a new generation EBB system - Electric Blow Back that imitates the bolt carrier's movement, which sets a new standard for AEG replicas. Tokyo Marui EBB system offers an incredible experience when firing by providing a powerful recoil directed at the shooter's arm thanks to the integrated unit imitating the bolt's recoil (Recoil Shock System). The realism is increased by a special system that prevents firing when the magazine is empty.
The double-sided fire mode selector is a pleasant and functional detail that makes the replica even more functional. Another treat is the enlarged charging handle and two QD tactical sling mounts.
The replica features a set iron sights by default, however, thanks to an array of RIS 22 mm mounting rails it is possible to modify the replica with various additional accessories.
The set includes a dedicated, 82 BB, polymer, Low-Cap magazine.
ATTENTION! The replica is compatible only with dedicated Tokyo Marui M4 SOPMOD batteries. The battery is not included in the set!
Tokyo Marui HK416 Delta Custom Next Gen Features:
Next Generation Recoil Shock Series
290 FPS (Can be upgraded)
Full Metal Body
Safe, Semi-Automatic, Fully Automatic*
82rnd Magazine Included
Auto-Stop When Magazine is Empty
Functioning Bolt Catch
Weighs in at 3.2kg
72cm/82cm Stock Retracted/Stock Extended
14mm CCW Threaded
20mm Rail System
TM SOPMOD Battery – Not supplied. we recommend a modification to use std 7.4v Lipo batteries.