Tokyo Marui FNX-45 GBB Pistol
Tokyo Marui FNX-45 GBB Pistol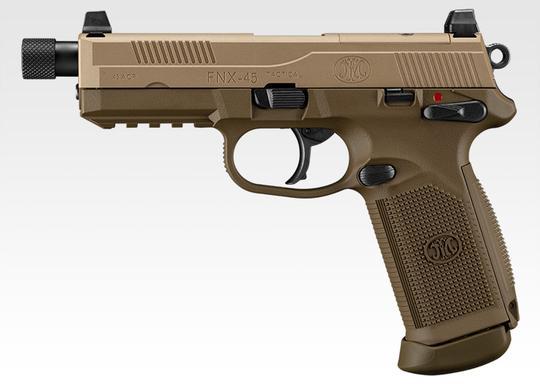 Tokyo Marui
The Tokyo Marui FNX 45 Tactical has been developed with the aim of .45 calibre pistol for the US military replacing M9. This tactical fully ambidextrous FNX45 model comes with tan slide and frame and is compatible with HK45 Tactical suppressor and optional micro pro site optic.
Major Features –
Optional micro pro sight compatible: Slides are specially designed for mounting micro pro site (sold separately). The micro pro sight can be attached directly by removing the cover on the rear of the slide. In addition, the front / rear sight is a night site specification of the tall type, and you can sit on the micro pro site.
Optional tactical silencer support: By removing the muzzle protector, the optional tactical silencer can be installed. A metal outer barrel is used to provide sufficient durability for silencer installation.
Newly-designed oval piston: A dedicated oval piston that enables micro pro sight mounting at a low position. You can also enjoy a powerful recoil shock even when installing various optional parts.
Safety & De-cocking System: By operating the safety lever, it is possible to lock the hammer when it is full cock (when it can be fired), and it is also possible to return it from full cock to half cock to prevent overexposure due to falling etc. In addition, the safety lever is ambi, and can be operated from either left or right.
Ambi-type slide stop and magazine catch: Operation is possible from either left or right, with no choice of dominant arm.
Grip back strap attachment: Two kinds × 2 size (S / M) back strap is attached. You can adjust the grip of the grip according to the size of the hand.
Equipped with the under rail: In the under rail integrated with the frame, it is possible to attach a flashlight compatible with the Picatinny standard (20 mm width).
Die-cast magazine: 29 bullets, cold-resistant die-cast magazine included.
Details

– Full Length – 220 mm
– Inner Barrel Length – 113mm
– Weight – 830 g (with an empty magazine installed)
– Ammo Type – 6mm (0.20 – 0.25)
– Power Source – Dedicated gas (* 1)
This Pistol is designed for 144a, Nuprol 1.0 or Green Gas. 
DO NOT USE WINTER GASES SUCH AS NUPROL 3.0,4.0 OR GUARDER BLACK WITH THIS PRODUCT
Availability:
Out Of Stock