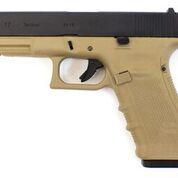 WE
G17 Gen4 Gas Airsoft Pistol. 
A Gas Blowback Airsoft Pistol built by WE Europe as part of their G-Series Pistol Range. 
The weapon is constructed with a lightweight and durable Polymer Lower Frame and an Alloy Slide, making it a Lightweight yet Durable sidearm. The pistol features a Semi-Automatic Gas Blowback system, meaning that a Single Round is Discharged for every Trigger Pull and also Simulates Recoil for a more realistic experience. The Pistol comes fitted with square sights and a rectangular body, making it the perfect choice for quick target acquisition when on the playing field, allowing the user to simply line up the Pistol with their Field of View until only the Rectangular Back Profile of the Slide can be seen. 
The Pistol features a specially designed Gen4 Frame which allows the grip to fit well in the players hand, with interchangeable back straps allowing users with different sized hands to comfortably use the weapon. 
Fire Selector: Semi
Magazine Capacity: 25 Rounds
Feet Per Second (FPS): 283FPS (Using 0.20g BB, WE High Performance Gas, Room Temperature: 23°c)
Powered By: Gas
Construction: Polymer frame, with Alloy upper
Hop Up: Adjustable on Hop unit when Split
Other Features: Part ofG-Series Pistol RangeGas Blowback PistolTwo Stage safety triggerTrigger Lock SafetyFront lower Pistol RailThreaded outer barrelSquare sightsCompatible with both Green Gas and Co2 MagazineGas Blowback PistolGeneration 4 DesignExtened Mag Release